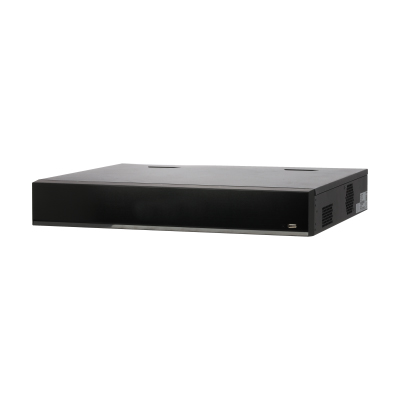 Description: 32Channel 1.5U 4HDDs 16PoE Wiz Mind Network Video Recorder
Model No: GA-32NVR
System
Main Processor: Multi-core embedded processor
Operating System: Embedded LINUX
Perimeter Protection
Performance: 16 channel, 10 IVS rules for each channel
Object classification: Human/Vehicle secondary recognition for tripwire and intrusion
AI Search: Search by target classification (Human, Vehicle)
Face Recognition
Performance: Max 22 face pictures/sec processing (modeling and comparing) 4 channel video stream face recognition/16 channel picture stream face recognition (with FD camera)
Stranger Mode: Detect strangers' faces (not in device's face database).Similarity threshold can be set manually.
AI Search: Up to 8 target face images search at same time, similarity threshold can be set for each target face image.
Database Management: Up to 20 face databases with 100,000 face images in total. Name, gender, birthday, nationality, address, ID information can be added to each face picture.
Database Application: Each database can be applied to video channels independently.
Trigger Events: Buzzer, Voice Prompts, Email, Snapshot, Recording, Alarm Out, PTZ Activation, etc.
Metadata
Face: Gender, age, glasses, beard, mouth mask, expression.
Vehicle: Plate No., type, color, vehicle type, logo, plate color, ornament, calling, seatbelt, region.
Human Body: Top, top color, bottom, bottom color, hat, bag, gender, age, umbrella.
Non-motor Vehicle: Type, color, number of passengers, helmet.
AI Search: Support search target video by metadata.
Audio and Video
IP Camera Input: 32/64 Channel
Two-way Talk: 1 Channel Input, 1 Channel Output, RCA
Display
Interface: 2 HDMI, 1 VGA
Resolution: HDMI1/VGA: 1920 × 1080, 1280 × 1024, 1280 × 720, HDMI2: 3840 × 2160, 1920 × 1080, 1280 × 1024, 1280 × 720
Decoding Capability: 4-ch@8MP (30fps), 16-ch@1080P (30fps)
Multi-screen Display: 1st Screen: 1/4/8/9/16/25/36, 2nd Screen: 1/4/8/9/16
Recording
Bandwidth: 320 Mbps (160 Mbps when AI function enabled)
Compression: Smart H.265+/H.265/Smart H.264+/H.264/MJPEG
Resolution: 16MP, 12MP, 8MP, 6MP, 5MP, 4MP, 3MP, 1080P, 1.3MP, 720P, D1 etc.
Record Mode: Manual, Schedule (Continuous, MD (Motion Detection), Alarm, IVS),
Record Interval: 1–120 min (default: 60 min), Pre-record: 1–30 sec, Post-record: 10–300 sec
Raid Support: Raid0,Raid1,Raid5,Raid10
Video Detection and Alarm
Trigger Events: Alarm Out, Video Push, Email, Recording, PTZ, Tour, Snapshot, Voice Prompt, Buzzer and Screen Tips
Video Detection: Motion Detection, MD Zones: 396 (22 × 18), Video Loss, Tampering and Scene Change
Alarm input: 16 Channel
Relay Output: 6 Channel
Playback and Backup
Sync Playback: 1/4/9/16
Search Mode: Time/Date, Alarm, MD and Exact Search (accurate to second)
Backup Mode: USB Device/Network
Third-party Support
Third-party Support: Panasonic, Sony, Samsung, Axis, Pelco, Arecont, Onvif, Canon and more
Network
Interface: 2 RJ-45 Ports (10/100/1000 Mbps)
PoE: N/A
Network Function: HTTP, HTTPS, TCP/IP, IPv4/IPv6, UPnP, SNMP, RTSP, UDP, SMTP, NTP, DHCP, DNS, IP Filter, PPPoE,DDNS, FTP, Alarm Server, IP Search (Support Dahua IP camera, DVR, NVS, etc.), P2P
Max. User Access: 128 users
Mobile App: iPhone, iPad, Android
Interoperability: ONVIF 2.4, SDK, CGI
Storage
Internal HDD: 8 SATA III ports, up to 10 TB for a single HDD. The maximum HDD capacity varies with environment temperature
eSATA: 1 eSATA
Auxiliary Interface
USB: 4 USB Ports (2 Rear USB 3.0, 2 Front USB 2.0)
RS232: 1 Port, for PC Communication and Keyboard
RS485: 1 Port, for PTZ Control
Electrical
Power Supply: Single, AC100V–240V, 50–60 Hz
Power Consumption: NVR: <16.1W (Without HDD)
Fan: Smart fan, automatically adjust running speed
Environmental
Operating Conditions: -10°C to +55°C (+14°F to +131°F), 86–106kpa
Storage Conditions: 0°C to +40°C (+32°F to +104°F), 30–85% RH
Construction
Dimensions: 2U, 439.7 mm × 451.0 mm × 94.9 mm (17.31″ × 17.75″ × 3.73″)
Net Weight: 6.70 kg (14.8 lb) (without HDD)
Gross Weight: 9.30 kg (20.5 lb) (without HDD)
Certifications
CE: EN55032, EN55024, EN50130-4, EN60950-1
FCC: Part 15 Subpart B, ANSI C63.4-2014
UL: UL 60950-1
Golf Automation is committed to deliver high-quality products and services to its customers and continuously strives to improve in all aspects.Our aim is to provide best class solutions with world class support in all segment with top quality products